Welcome to the website for Milburn Electric antique automobiles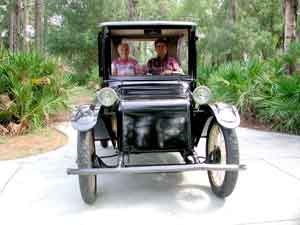 This site will provide a place for photos and information about "Milburn Light Electric" automobiles, which were produced for model years 1915 to 1923. This website was created by George Milburn of Sarasota, Florida and is currently maintained by Myles Twete of Portland, Oregon.

Many folks have contributed information and pictures for this project, especially those with cars listed on the "Registry" page. But the most steadfast collaborator continues to be Clarence Milburn of Dallas Center, Iowa, who has provided a wealth of content for the website, and continues to do so.

Those who like this website will also like the "Antique Electric Vehicles" newsletter, now published by
Blanche Gordon, PO Box 6550 Thomasville, GA 31758 USA.

Another resource is the Antique Electric Vehicles List, an online forum hosted by Myles Twete. Drop in soon and say hello.
Latest Updates:

Feb 2016: Carroll Hutton's 1920 Model 27L Brougham #214387 is F

or Sale --- $40k or so

. This car is fully restored including immaculate paint and an impressive and unique interior. For more info: PT17CH-at-aol.com
Feb 2016: Recently added: Tom Schowalter's 1921 Model 27L car #222527. This car was literally found in a barn in Michigan, but was in quite decent shape. He needs a number of parts including: (a) motor drive shaft, (b) controller, (c) window lifter handle(s), (d) battery tray rail.
Feb 2016: Update: The Otto Siderits Milburn was recently confirmed to be #24627. Prior to this, we suspected this was a 1916 Model 22. From its original 'Car#' plate, it's clear that it's a 1917 Model 27.
Feb 2016: Recently Missing Milburns --- the following vehicles have recently sold or have otherwise fallen off our radar and we don't know who owns them. If you have any leads or info on them, please contact me at matwete at comcast dot net.
E. Eugene Hawkins 1916 Model 22 (blue and black): Prior owners included Remy Baker, a broker, a Tom McDonald, Long Island Automobile Museum and E. Eugene Hawkins who purchased the car originally in 1916 for his wife. This car appeared for sale by Hyman Ltd for $53.5k in 2014. By 2015 it no longer appears listed. This car has now fallen into the missing category.
1918 Model 27 (green and black) #26567: Sold at Hershey in 2010, this car was part of the O'Quinn Classy Chassy collection in Houston, Tx but is now missing again.
1920 Model 27L (blue and black) #216107: Last known owner was Zahnle in 2008; Earliest known owner was Paul Paff in 1957
1921 Model 27L (black) #225157: Sold in 2010---This car was last with History Trust of South Australia.
1922 Model 27L (blue and black) #231747: Sold to A&R Motors of Portsmouth, VA in April 2014 for $25k on Ebay. No response from A&R Motors when asked about this car since. Long missing, this is one of the most well known Milburn cars given it seems to be the formerly missing Stella Hanna car, the formerly missing Schaeffer car and the formerly missing Bond car---this car sat in a garage from the 1980's until surfacing briefly in late 2013 with a phone call from its owner...within months it disappeared on Ebay.



Click on an image for a larger view.
\
CAR S/N or Chassis ID#: Milburn used separate body ID numbers and car ID numbers. The car ID (or VIN) number should be stamped into a brass plate on every vehicle. On the Model 15 cars, the car ID plate has been found on top of the wood support under the rear seat. Model 22 and Model 27 cars also have been noted to have a plate under the seat or on the kickboard. With the Model 27L cars (S/N 2-900-7 and after), the S/N plate is an oval brass plate located at the rear of the car on top and in the center of the rearmost wood cross member under the battery tray----it is plain and has no writing, just the 2xxxx7 number.

If we don't yet have your car S/N and you find a car S/N plate on the car, please email us the number and any photos you have of the stamping(s). If there is no plaque, the S/N is still marked on your car. Model 15 (and 22?) car S/N is also stamped into the chassis behind one of the front hood latches. Model 27(L) car S/N is stamped into the topside of the forward-most part of the right front spring knuckle on the chassis. Paint often fills this in and requires removal of the paint layers to reveal the number.


Click on an image for a larger view.
BODY ID#: Do you know the "Body No." for your car? Have you located a "Body No." plate anywhere? One car (#2-2515-7) has a body ID plate (#16636) located on the rear cross member next to the car S/N oval plate. At least one Model 27 has a "Chassis S/N" ID plate mounted on top of the front wood cross member under the back seat (see car #2-373-7). Some early Milburns (Model 15 or 22) have Body No. plates on the interior kickboard under the seat.


If your car has a body ID# plate, please email us the number stamped on it and tell us where it was found. If not, don't fret---all Milburn bodies have the Body No. stamped into the primary body elements including the doors (very top, seen from above), hoods (very bottom, seen from below) and main body (passenger side, forwardmost corner, top of wood sill plate under front hood area). If we don't have your car's Body No. yet, please email us the number and any photos you have of the stamping(s).